Digital visions of London faces of the capital photographed and portrait painting in exchange for a favour – artists take over the Museum of London.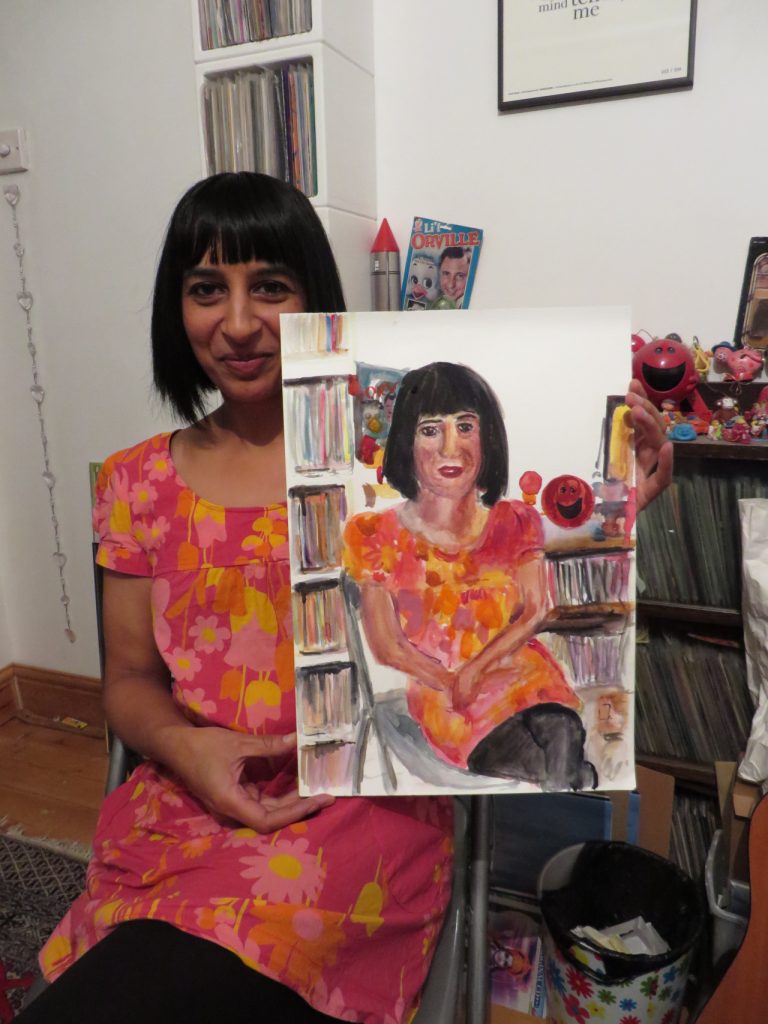 City Now City Future
Museum of London
18 May 2017 – 15 April 2018
City Now City Future is sponsored by DLA Piper and supported by Bloomberg.
The Museum of London's first ever season, City Now City Future, begins on 18 May 2017.
Large-scale art commissions and digital installations will start the year, including work by internationally-renowned interactive art pioneers Blast Theory, London-based artist Lady Lucy, and photographer Niall McDiarmid, taking over spaces across the museum.
The installations and commissions seek to challenge and inspire visitors both to get to know London in the present and also imagine its future.
My Point Forward – Blast Theory
18 May – 24 September 2017 (free)
Featuring a series of newly commissioned short films, this interactive installation by pioneering artists' group Blast Theory gathers recordings from visitors to build a personal and meditative portrait of the future. Step into a corner of London and look around. Gaze at the towers in the distance. Pick out the path trodden through the park or the eddy in the river. And then jump decades into the future to imagine a new London and your place within it.
Matt Adams, Blast Theory artist, says: "London is a city where hundreds of years of history pour down every street. My Point Forward places you in one spot and gives you space to speculate on the city's future and your place in it."
Lady Lucy: Portraits for Services, Gifts and Favours
18 May – 18 June 2017 (free)
For four weeks, artist Lady Lucy will install her portrait studio in the museum for a participatory art project, asking members of the public to offer a service, gift or favour to another museum visitor in return for a watercolour portrait painting of themselves.* An accompanying display will represent a growing social portrait of the exchanges that form the everyday life of the city.
Lady Lucy, said: "I am thrilled to be working in the context of City Now City Future, and be one of the projects at its outset. What Londoners and visitors to the museum will offer as their exchange and who will take up their offers, we do not yet know and that is what I am curious and excited about."
Here and Now: London portraits by Niall McDiarmid
18 May – 15 October 2017 (free outdoor display) For more than six years, photographer Niall McDiarmid has been documenting the people he meets around London. This striking outdoor display showcases these vivid street portraits and is an exploration of colour, frequently combining or contrasting the sitter's clothes with their surroundings. Niall rarely photographs people more than a few yards from where they first meet and, by recording the date and place of each brief encounter, McDiarmid has constructed a collective identity of London today.
Niall McDiarmid, said: "Individually these photos represent the moment that we crossed paths, but collectively they represent my portrait of London – a confident city, a city of the future, a city I call home."
Lauren Parker, Lead Curator, City Now City Future, said:
"This is a really exciting time for the museum. By launching our first-ever year-long season, City Now City Future, we have the opportunity to commission work from artists in a way we haven't before. Blast Theory, Lady Lucy and Niall McDiarmid all bring a different perspective on our city. From May, visitors will be able to digitally interact with the future of London, see familiar faces reflecting the city's incredible diversity, and get their portrait painted, live, in the galleries."
City Now City Future runs from May 2017 – April 2018 and is made up of over a hundred events, exhibitions, creative commissions, talks and debates that explore the joys, frustrations and evolution of global cities and our lives within them. More events and activities will be announced over the coming months.
Tom Heylen, DLA Piper Office Managing Partner for London, said:
"The Museum of London is an iconic institution and the City Now City Future season is a hugely exciting project for us to be involved with. Next year we are moving into a new building that is just a stone's throw from the Museum's new home at West Smithfield. We are relishing the prospect of working closely with the Museum to help visitors, of all ages, learn more about the City's unique and fascinating history and celebrate the exciting opportunities of urban change."
Ends
Notes to Editors
About The Museum of London
The Museum of London tells the ever-changing story of this great world city and its people, from 450,000 BC to the present day. Our galleries, exhibitions, displays and activities seek to inspire a passion for London and provide a sense of the vibrancy that makes the city such a unique place.
The museum is open daily 10am – 6pm and is FREE to all, and you can explore the Museum of London with collections online – home to 90,000 objects with more being added. www.museumoflondon.org.uk.
About City Now City Future
With more than half the world's population now living in urban areas, the Museum of London's City Now City Future season (May 2017 – April 2018) will examine the various challenges that an increasingly urbanised earth poses to the world and its inhabitants. At the heart of this year-long season of exhibitions, creative commissions, large-scale public events, talks and debates is The City is Ours, a dual-language exhibition from the Cité des sciences et de l'industrie in Paris which explores the ideas and innovations being developed by urban communities to improve how their cities work and people's experience of living in them. The City Now City Future season is sponsored by DLA Piper and supported by Bloomberg and has received funding from the Arts Council England.
About DLA Piper
DLA Piper is a global law firm located in more than 40 countries throughout Africa, the Americas, Asia-Pacific, Europe and the Middle East, positioning it to help companies with their legal needs anywhere in the world. For further information about our organisation and services, please visit our website: www.dlapiper.com
About Bloomberg
Bloomberg, the global business and financial information and news leader, gives influential decision makers a critical edge by connecting them to a dynamic network of information, people and ideas. The company's strength – delivering data, news and analytics through innovative technology, quickly and accurately – is at the core of the Bloomberg Professional service. Bloomberg Philanthropies encompasses all of Michael R. Bloomberg's charitable activities, including his corporate, foundation and personal giving. The organisation focuses on five key areas for creating lasting change: Arts, Education, Environment, Government Innovation and Public Health. For more information, please visit bloomberg.org.
About Blast Theory
Multi-award-winning artists group Blast Theory uses technology to place audiences at the centre of interactive art. Encompassing theatre, gaming, film and performance, their work animates public spaces and builds conversations. Led by Matt Adams, Ju Row Farr and Nick Tandavanitj, Blast Theory explores the social and political aspects of technology, drawing on popular culture and games to blur the boundaries between the real and the fictional. Four times BAFTA nominated, Blast Theory has shown work at the Venice Biennale, Sundance Film Festival and Tate Britain. Most recently, Blast Theory was awarded the Nam June Paik Art Centre Prize.
During 2017, Blast Theory is creating a series of projects that invite audiences to envision the future of our society as part of a global dialogue. This includes presenting work in partnership with organisations in Hull, Aarhus, London and Seoul. www.blasttheory.co.uk. @blasttheory
About Niall McDiarmid
Niall McDiarmid is a Scottish photographer based in London. His work is primarily about documenting the people and landscape of Britain.
http://www.niallmcdiarmid.com/
About Lady Lucy
Lucy Woollett aka Lady Lucy works amongst the realms of social practice, painting, drawing and moving image. Centred upon an exploration of identity and biography her works are informed by the interview, the
portrait, collaboration, documentary and the act of naming. Central to her practice is the process of drawing, where she produces series of works, often editing, collaging and layering second hand found print imagery.
* Booking a portrait session is free, but sign up here http://www.museumoflondon.org.uk/lady-lucy-portrait-sign and follow the instructions here to offer a service, gift or favour in exchange for your painting and describe why you would like to be a part of the project. Previous exchanges include a full bike service, with handlebar wraps and decoration, gifts of well-loved punk records and a service of a front crawl lesson & lunch. After submitting your service, gift or favour you will then be contacted within 5 days of booking to have your place confirmed.
http://www.museumoflondon.org.uk/museum-london/whats-on/exhibitions/city-ours-displays