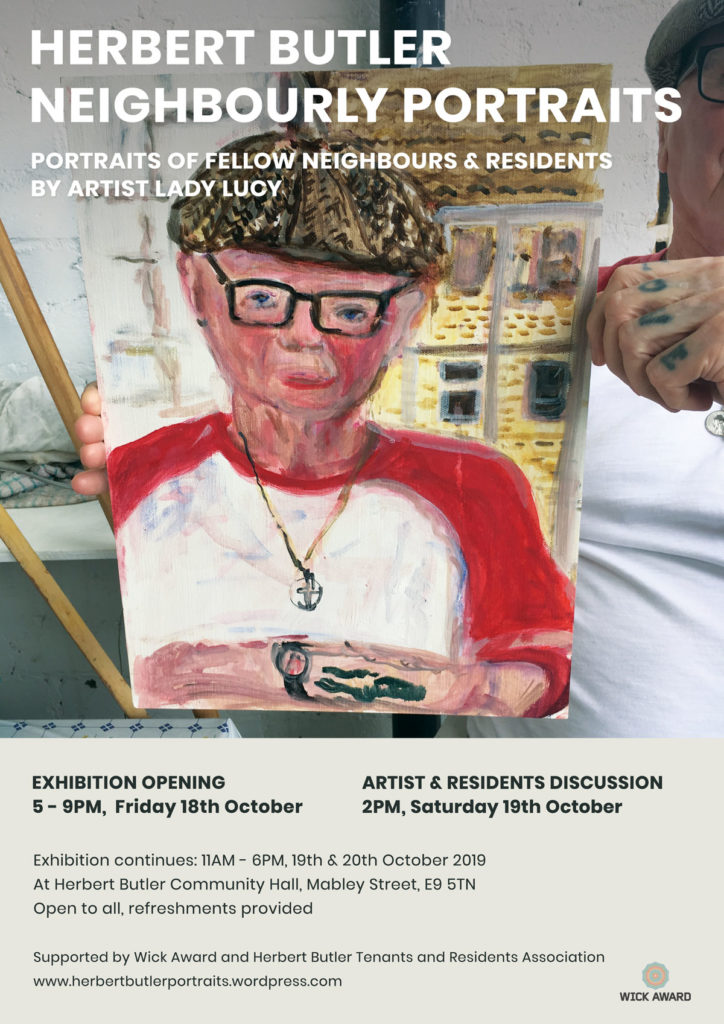 HERBERT BUTLER NEIGHBOURLY PORTRAITS
Portraits of fellow neighbours and residents by artist Lady Lucy
Herbert Butler Community Hall, Mabley Street, E9 5TN
Exhibition opens: Friday 18th October, 5-9 PM
Continues: Saturday 19th/20th October, 11-6 PM
Artist and residents discussion: Saturday 19th, 2 PM
Herbert Butler Neighbourly Portraits will also be displayed on October 23rd at the Community Lunch at Gascoyne Community Hall, 2 Wick Road, London E9 2AY
Herbert Butler Neighbourly portraits — an art exhibition by Lady Lucy — will be on display at two Hackney Wick Community hall venues in October 2019. The exhibition will open at the Herbert Butler Community Hall, and features 20 portraits of the estate's residents. The paintings will then be on display at the Community Lunch at Gascoyne Community Hall on October 23rd. The portraits were painted whilst the artist visited residents' homes with a DIY portrait-painting trolley. The artist has offered the portraits to the residents to keep, in return for conversation about neighbourly exchanges and encounters.
"I became interested in working with the community surrounding me while considering the complexities of gentrification, the housing crisis, the prevalence of precarious living situations, and class", says Lady Lucy (given name Lucy Woollett) who is a resident of Herbert Butler Estate and secretary of its Tenants and Residents Association. The estate was named after a former Mayor of Hackney who was a Labour MP during the post-war years, when the establishment of the welfare state saw the vast expansion of council housing. This ended with Thatcher and years of privatisation and austerity followed. During conversations with the artist, residents spoke of their lives, memories and encounters on the estate. Lady Lucy aimed to look "over the garden fence" through her art practice to question what it means to be both a neighbour and "artist in residence" in such a community during today's turbulent times.
Lady Lucy's work is strongly informed by her interest in the social function and value of her activities as an artist and more specifically as a painter. She seeks to find meaning and political application in the process of painting and draws on the art historical lineages of collaborative art practice and portraiture.
Previous projects and exhibitions include Portraits For Services, Gifts and Favours, Museum of London (2017), Shrine to Dissent, Day of The Dead Festival, Bargehouse, London (2014), The Whitechapel Gallery Staff Portrait Studio (2011) and Volunteers, Festival of Britain Southbank Centre (2011). Herbert Butler Neighbourly Portraits is the culmination of her practice-based doctoral project, 'An Exploration of the Value of Portraiture and Painting as a Socially-engaged Practice', which she is undertaking at Winchester School of Art, University of Southampton.
http://herbertbutlerportraits.wordpress.com