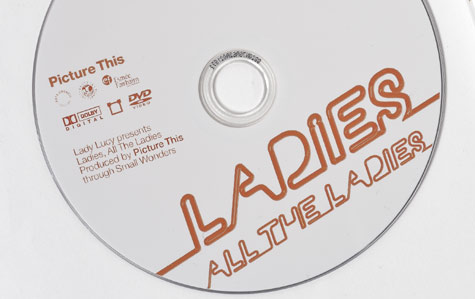 Ladies, All The Ladies
by Lucy O'Brien
20th September 2009
Music journalist Lucy O'Brien looks at the the role of female MCs in Ladies, All The Ladies.
"It means woman. It means power. It's announcing yourself, saying, this is what I am. We're in a male-dominated society. I'm a woman and I want to be heard." says hip hop/folk fusioneer Lady Raz, talking about the word 'Lady'. It's a title that has a rich history in music – from jazz heroine Lady Day (Billie Holiday), to '90s dancehall divas like Lady Saw and Lady Mackerel, to the current grime/electronica MC Lady Sovereign. The power of the word is immediate: it celebrates femininity while commanding attention and respect. And it gives women status in a world where they are too often overlooked or ignored.
From when she published fanzines in the late '90s, visual artist Lucy Woollett has used the name Lady Lucy as an alter ego. Fascinated by the way the word 'Lady' is a recurring theme on the urban music scene, she went on a self-imposed search to track down other 'ladies'. She describes it as "quite an epic journey". Unlike their male counterparts, female DJs and MCs rarely get the attention they deserve, and their contribution is hidden. "It's hard to get respect as a female DJ. A lot of guys say they don't want to listen to my music because its hip hop and they think a woman won't be any good," says Nottingham MC Lady Paradox. And though she checks out American artists like Erykah Badu and Lauryn Hill, she doesn't listen to many UK girls "because I don't know any".
Lady Lucy delights in bringing people together, and this film (produced through Small Wonders and first shown at Picture This, Bristol) has done just that – linking up UK artists as diverse as Laydee Bird, Lady Free, and Lady Maximum and Lady K (London's only mother/daughter freestyle duo). "A lot of my work is about searching for people, then filming and drawing them. It's another kind of portraiture. I like to mix high-concept ideas with DIY accessibility," says Lady Lucy, who investigated skater culture with her film Don't Do Tricks, and who organised the feminist film festival for Bristol Ladyfest in 2003. For the filmLadies, All The Ladies, female MCs talk while Lady Lucy draws them in a style inspired by comic book art. "I see art-forms as being fluid – that art can include music and film," she says.
All the ladies on this film are upfront about expressing themselves. "I've suffered being shy and humble. But what's the point in being shy?" says Bristol promoter Diss Miss. "Just go out and show what you've got!" It takes a lot for women to get on stage and grab a mike, to carve a place for themselves on a male scene, and most do it with determination and a sense of fun. "When I was ten I was going to youth clubs, watching the boys djaying in the back room. I wanted to do that. My Mum thought it was a phase, but eventually she got me a pair of decks for my 16th birthday," recalls drum n' bass DJ Laydee Bird. Lady Free enjoys people's surprise when she rhymes on stage with such a deep, melodic voice. "I'm female, Oriental and quite small," she says, "But its Small girl/Big voice!" Lady Maximum and Lady K, too, relish the crowd's reaction to their mother/daughter act. "They look at me and think I'm going to play 'Aggadoo', but then I play dirty Grime instead. The people go mad," says Lady Maximum.
For these artists the key to a growing female scene is networking and support. "It's really important to have other females around giving support," says Laydee Bird, who regularly plays out with Bristol's Dutty Girl Crew. Together they can break down the isolation of being a girl on a macho scene. I think back to the 1980s when I was a music writer interviewing women like Roxanne Shante and Salt N' Pepa in the US, and the Cookie Crew here in the UK. Then female rappers were as rare as UFOs, and I had to hunt them out. But now many women are involved in urban music at both a grassroots and a global level. "We've got a long journey," declares Lady Raz, "But women are now becoming more and more empowered."
All quotes from Ladies, All The Ladies
____________________________________________
Lucy O'Brien is the author of She Bop, the history of women in rock, pop & soul. She has been writing on music, feminism and popular culture, and creating fiction since the early 1980s for publications including NME, the Sunday Times, Marie Claire, the Guardian, Q and Mojo.