I will be showing some new work Musicals and S D E B ( An epic redaction) at Prop.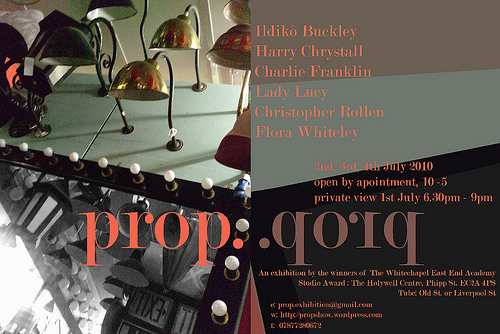 An exhibition of new work by the recipients of the Whitechapel East End Academy studio prize, 2010.
To celebrate their six-month period in a studio supplied by The Whitechapel Gallery & The Workspace Group, the recipients of the Whitechapel East End Academy prize are ending their stay by presenting new bodies of work to the public.
Prop. is an exhibition that wishes to pay homage to the found object & the appropriated, the familiar & the theatrical. This includes source material such as photocopies, music manuscripts, cardboard boxes & other art works. The practices of the artists involved are formally diverse, & include painting, drawing, video, photography, sculpture and installation.
Ildikó Buckley explores identity & portraiture by appropriating objects from the everyday, elevating their significance by method of display. She utilises video & photography to explore the complexities of an individual's character.
Harry Chrystall has created a series of paintings using as a starting point a single photographic source. From here through a fictionalised narrative of recollections, a reconstruction of memory & sensation is formed.
Charlie Franklin creates sculptural assemblages that try to navigate the poles of stark minimalism & flamboyant Rococo aesthetics. She uses familiar lo-fi materials, such as cardboard & plastic as a basis for her explorations.
Lady Lucy collects information such as music scores, texts and pictures from the second hand printed page. Using this collated archive, she creates drawings & collages which reference notation, Art Nouveau, decoration & abstraction.
Christopher Rollen uses a combination of childhood memory of world events & personal or cultural history to create his work. His output traverses a wide range of media including music, drawing, performance & painting.
Flora Whiteley explores the projections of imagination. In her paintings of interior scenes she studies the place where the day to day meets the fantastic through daydream and memory.
Prop. 1st Floor Units W107- W110 The Hollywell Centre Phipp Street
London EC2A 4PS
Nearest Tube – Old Street / Liverpool Street
Exhibition From: Friday 2nd July – Sunday 4th July, 12pm – 6pm daily.
Please go to http://propshow.wordpress.com/ or email us at
Prop.exhibition@gmail.com or call 07877280672 for further information.
In partnership with the Whitechapel Gallery & The Workspace Group Plc