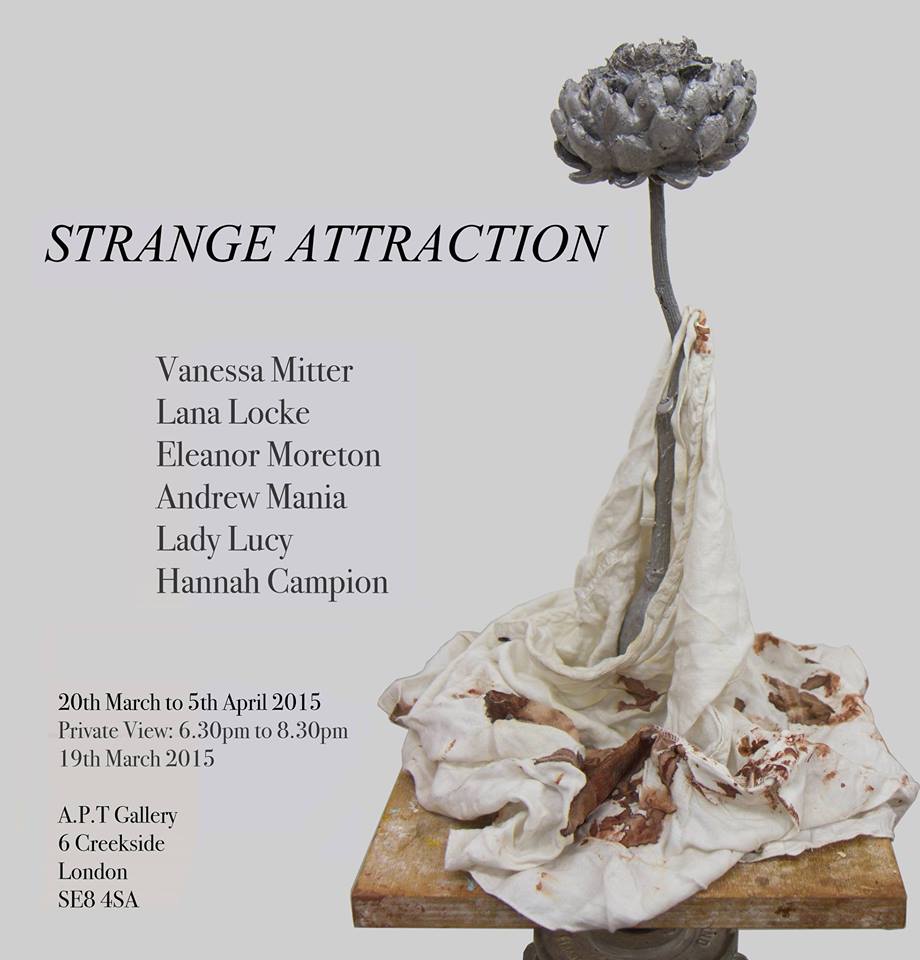 STRANGE ATTRACTION
A.P.T Gallery, 20th March – 5th April, 2015
Curator's panel discussion and SLAM (South London Art Map) last Fridays, opening: 6.30pm to 8.30pm on Friday, 27th March
Dear A, I'm attracted to you, and I don't know why.
            Shall we be friends?
Artworks can write letters too, inasmuch as they reach out, make lines of contact with other artists, and forge an aesthetic of correspondence. In Strange Attraction, a group exhibition of six artists working in a variety of mediums, curated by Emily Purser, that correspondence is curated and archived, as the works speak to one another through their shared preoccupations. Sometimes the works' closeness can be found in the processes in which they have been made, or the materials that have been manipulated, and sometimes it is found in the works' ideas, its postscripts and its messages.
Many of the artists gathered here are interested in biography, not as a mapped out narrative, but as an affective pool: a script to be rewritten and performed, as pliable as paper. And even when the life is not visible in the works' imagery, it exists in the frenetic states of matter and experience that the work has endured.
*
The abject body is a marginal unclean thing, potentially transgressive in its borderline subversiveness. In Lana Locke's work, the sculptor references this body, but fragments it, creating sculptural installations that suggest, or indeed perform, a loose and perverse corporeality. Heads float. Limbs are scattered about like twigs on the ground. Bloody sheets fall from flowers on plinths.
*
This mode of identity performance is similarly found in Lady Lucy's paintings, which draw on documentary and interview research, to create portraits of layered and collaged material, often incorporating art historical gestures and tropes. Defiantly appropriated, the self is rendered a composite artificial object. 
*
Andrew Mania makes art akin to the obsessive habits of a collector, transcribing people and objects. In his work, the autobiographical is recast in small, coloured pencil drawings, and even smaller paintings: a public re-reading of the intimate. The blue eyes of a young boy gaze out from the canvas, affective and abject: it is a look of innocence, melancholy, desire and love.
*
In Vanessa Mitter's paintings, the personal is also treated as a pliant material, a source of affect and investigation, but also of fiction and performance. Collage, paint and pigment find a way on to the canvas in ephemeral expressive gestures. There is an abject narrative at play – of lost childhood and drifting brides – but it is a narrative that wanders in and around the artifice of the material.
*
In Hannah Campion's work, painting is made into a happening, and then an installation, as her worked on canvases are then reworked into ambiguous three-dimensional forms, which are strewn on the floor or pinned to the wall. The paper or canvas undergoes all kind of processes: it is crushed, trampled, nailed, repaired, collaged. It is an active, performative mode of painting, which is also a site-specific response to the surrounding space.
*
Eleanor Moreton is similarly interested in painting as performance. In her work, narrative is not so much read as experienced. She provides the protagonist and the prop, often drawing on her own personal histories; but with the medium and its application (part abstract, part figurative), comes an ambiguous appropriation of the primary material. As in the work of the other five artists, the raw is remoulded as an artistic event.
In Strange Attraction, the viewer will find six distinct but correspondent practices, whereby narratives relating to the bodily and the biographical are re-made in painting, sculpture and installation. In these intimate objects, the personal evades our grasp when the performance takes over.